JUNK REMOVAL BELLEVUE

Don't you have enough space at home for old furniture, mattress, or appliances? Do you want to get rid of old desks and chairs in your office? Are you looking for the most affordable option for junk removal in Bellevue, WA? Let us help you. Action Junk Removal offers its services to all communities throughout the city to eliminate any unwanted rubbish and make sure to preserve its reputation as the second best place to live.
Action Junk Removal has been the most trusted trash removal company in Bellevue. With our team of trained professionals and community-focused approach, we ensure you have the peace of mind and the best possible experience while decluttering your home or office. All that you need is to tell us what you want to remove from your property. We do the rest while ensuring 100% customer satisfaction. Our extensive partnership with salvage yards, conscious recycling efforts, and donation/reselling enable us to minimize the waste sent to the landfill or dumping site.
Bellevue junk removal service
SCHEDULE JUNK REMOVAL TODAY
Choose Seattle's top-rated Junk Removal Company – Action Junk Removal. We're professional, quick, and affordable. Call or schedule online to get started:
Trash piling up at home or office eats into the living or working space. It also has the potential to cause health and hygienic issues apart from the space crunch. When you have too much unused, unwanted rubbish at home, you face the likely risk of having accidents. If your yard is full of trash, it poses a threat to the cleanliness and sanitary environment of your community.
So, don't allow the junk to accumulate. Let Action Junk removal clear it. We follow a four-step process to enable the most convenient rubbish removal service in Bellevue.
Step 1: Make a call to Action Junk Removal or contact via our website. You will receive a return call within a few minutes scheduling a visit.
Step 2: Our Bellevue junk hauling team manager arrives and assesses the trash to be removed. You will get an upfront quote with all the details. No charges except those mentioned in the quote.
Step 3: The team arrives with vehicles and equipment. It hauls away the rubbish from your property.
Step 4: You provide your feedback and tell us about your experience through proactive communication by our customer care.
The customer should not be bothered about any clearance. We do it all for him. If there is any scope for green credit following recycling, we are happy to provide you the same.
Same day junk removal in Bellevue, WA
Eco-friendly junk removal
We have earned a name as the most eco-friendly trash removal company in Bellevue. Our professionals not only make junk removal easy but also adhere to environment norms set at the municipal, state, and federal levels. To make sure our rubbish removal services remain eco-friendly, we take a number of steps, such as:
offering on-budget, affordable solutions to prevent junk pileup

following a strict eco-sensitive approach

minimal dumping policy in place

opting for different removal process for different types of trash

separating thrash based on their category and disposing of according

giving priority to recycling and salvage

special attention to the metal trash

reselling and donation through an extensive partnership network

trash repurpose for reuse

e-waste management
We offer comprehensive and affordable office and business trash removal services. Action Junk Removal is open to discounts for long-term contracts or recurrent hiring for services. To make the process simple and easy, we don't require you to open any type of business account with us. Just call our office and we will be at the designated address to help you get rid of the trash.
Action Junk Removal is open to pick up junk from multiple locations in a single day and has all resources to serve small and big businesses. All our men are well trained, professional, licensed, and insured for the job. For your convenience, we offer off-hours and weekend services too.
Junk removal in bellevue wA: what we remove
Business Office Junk Removal
Commercial Junk Haul Away
Our rubbish removal service in Bellevue is first and reliable. With eco-friendly disposal, our partnership offers you a chance to contribute to the betterment of the environment.
Copiers

Monitors, displays

Metal/wooden shelves

Office furniture

Office, store desks

Old chairs

Packaging waste

Partitions

Printer

Scanners

Wiring
If you have any unwanted appliance or trash at him, let us know. We can make it easy to get rid of that. Action Junk Removal offers the most affordable home, yard, attic, garage, and roof de-cluttering service in Bellevue.
Our junk hauling team can pick up appliances, furniture, mattresses, or anything you don't need anymore. You can book our services as and when you need and fix the schedule as per your availability. Even we can arrange same-day hauling services. Along with friendly and fast services, our team gives price estimation upfront with a detailed distribution of everything. It helps you to take an informed decision and enables us to maintain transparency in dealing.
Residential Junk We Haul Away
Homeowners can hire our comprehensive services or any specific service, such as dumpster rentals, based on their actual need.
Appliances

Bathtubs, Jacuzzis

Bicycles


Carpet and rugs

Furniture

Glass

Mattresses

Metal scraps

Pianos

Pool tables

Tire and rubbers

TV and refrigerator

Unwanted household items

Workout equipment
If you have unwanted household or old items in storage units and you want to get rid of them to save money on rentals, give us a call. Our team is ready to assist you to evacuate the junk from the storage. We also provide specialized cleaning services for defaulted storage rentals.
When you are facing emotional distress, it is difficult to engage yourself in physically demanding jobs, such as cleanout. Action Junk Removal can do it for you within an affordable budget.
A foreclosed home requires quick and high-quality cleanout. It is not like any other home rubbish removal and needs much more preparation considering that it is going to be offered for sale. Our team understands the difference between a foreclosure cleanout and a normal residential trash removal service.
Action Junk Removal makes sure the work is completed as soon as possible and the property is cleared of everything that looks odd to a buyer. We even offer cleanup services to add to its unique selling point.
Construction debris removal
Are you doing any construction, remodeling, repurposing, or renovation at your home or office? This is sure to generate concrete debris, logs, roofing, metal, tiles, drywall, insulation, nails, electrical wiring, bricks, tree stumps, and rubble. How to get rid of them quickly without causing any harm to your community environment?
Get in touch with Action Junk Removal. Our Bellevue debris removal team will haul away debris and dispose of them safely and in a manner not harmful to the environment.
Do you have a yard cluttered with branches, tree limb, old fencing, shed, or trash? Need to get rid of yard waste? Let us do it for you at an affordable price and make sure it does not pose any health and hygiene issue to you and your neighbors.
Do you have old appliances, TV, refrigerator, computers, waste wiring, CCTV cameras, monitors, displays, printer, scanners, or copiers? Get in touch with us to schedule their removal.
other junk removal and hauling services
Let us know if you need our support to remove demolition debris, carpets, merchandise, boxes cardboard, e-waste, concrete debris, lumber, branches, brush, yard wood, fence, renovation waste, and sheetrock. Action Junk Removal also offers dumpster rental, relocation and cleanup services.
why action junk removal in bellevue, WA
True transparency:

Upfront, detailed quote ensures no hidden charges. You know what you have to pay for beforehand.

The most affordable:

Low and cost-effective trash removal solutions to empower Bellevue residents to lead a clean and green life. We adjust costs through resource cycling so that you have to pay less.

Convenient pickup:

Option for both advance and same-day booking. Even we are ready to extend our services on weekends and off-hours.

Full-suite trash removal:

All types of services to help you get rid of junk at home, office, or yard. We have a range of general and specialized cleanout services.

Trained, professional workers: Skilled in the art of trash removal, they make sure you have the best experience.

Environmental responsibility:

From removal to disposal, we follow all environmental norms. Salvage, donation, recycling, and other innovative methods enable us to reduce the trash sent for dumping to a considerable extent.

Community focus:

A localized approach that puts community health and hygiene over commercial gains.
Get in touch with Action Junk Removal to know how we can help you eliminate trash from your home or office and keep your surrounding clean. Call to find out about our comprehensive junk removal services in Bellevue. If you're looking to DIY, read our guide to Bellevue Dump Fees and locations before you begin.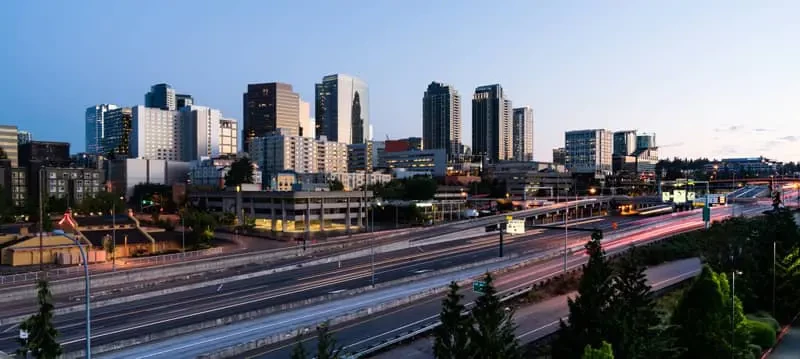 Junk We Take
Appliances

Bicycles

Carpets

Car Parts

Christmas Trees

Electronics, Batteries, Printers, etc.

Furniture

Garbage & Rubbish

Hot Tubs

Mattresses

Refrigerators

TVs

Tires

Yard Debris