SCHEDULE JUNK REMOVAL TODAY
Choose Seattle's top-rated Junk Removal Company – Action Junk Removal. We're professional, quick, and affordable. Call or schedule online to get started:
FAST, AFFORDABLE JUNK REMOVAL IN SEATTLE, WA
Is that pile of old furniture sitting in a corner staring at you? Is your old-favorite appliance collecting dust sitting silently in your home? You are unsure what to do with them, right? Well, worry not. At Action Junk Removal SeaTac, we are a professional trash removal company in SeaTac that can seamlessly remove junk from your property and clear up space. With extensive knowledge and experience in junk removal, our rubbish removal professionals will lift, load, and haul the junk to a waste disposal yard, where it is disposed of in an eco-friendly way.
Whether you have construction work underway at office or renovation going on at home, we will pick up all forms of junk from your property and haul it to a safe location. The idea is to ensure that the material is safely disposed of or recycled. We understand that the removal of big household objects can be extremely stressful if you decide to do it yourself. There is a high risk of injury too. Of course, it can be highly inconvenient for you to move bulky objects and haul them safely. Besides, you might damage your vehicle carrying junk.
Remember, SeaTac rubbish removal is the work of experts and requires specialized equipment and training. Moreover, finding the time to remove and haul junk or finding a vehicle for SeaTac junk hauling is daunting. If you decide to postpone visiting the junkyard, you are only adding to the anxiety of living in a cluttered space.
Let us make life little easier for you by quickly, safely, and efficiently removing junk and clearing up space to make the process as simple for you as possible. As one of the leading debris removal companies, we boast a well-trained and experienced team that can quickly pack up your junk and load the material in our 6×8 foot truck beds.
TOP-RATED JUNK REMOVAL COMPANY
Making junk removal easy and affordable for all in the city




Ensuring junk is cleared of property and disposed of in a responsible manner without harming the environment




Keeping the community clean from rubbish ensuring a hygienic ambiance for all.
RESIDENTIAL CLEANOUT AND JUNK HAULING

JUNK REMOVAL IN SEATTLE: AFFORDABILITY, DISPOSAL, COMMUNITY
The effort to keep your community clean and rubbish free starts from your home. It is a common tendency to keep the junk in the garage or store for later disposal. As the trash piles up, it eats into your space forcing you to plan a home cleaning. Also, when you have a major residential or commercial renovation, you may come across piles of junk and rubbish. But, how to dispose of the junk without harming your local environment? To free your space and eliminate the rubbish, you need a good junk removal and trash hauling service.
Action Junk Removal Seattle has all necessary expertise and means to help you get rid of unwanted items in a safe, eco-friendly, and perfect manner. Its professionals are well trained to offer full-service trash and junk removal in Seattle based on our localized clean-community model. Empowered with all necessary vehicles and equipment, we have ample resources to clear your home, office, attic, roof, or shop of unwanted furniture, appliances, and household junk.
Whether a small or a big job – a clunker, single appliance, or huge amount of post-construction trash, Action Junk Removal Seattle offers to do all types of rubbish removal tasks. From heavy lifting to loading and disposal, our trained men follow all environmental and legal norms to your full satisfaction. They haul away the waste to free your space and yourself from any concern. Our expertise in waste segregation and clearance enable you to save significantly on disposal costs. They do all the work themselves allowing you rest, convenience, and freedom from dust and spider webs.
4-STEP PROCESS OF JUNK REMOVAL IN SEATTLE, WA
Our approach and service goal makes us different from other Seattle trash removal and disposal companies. Action Junk Removal Seattle's business model focuses on three main pillars:
Be it appliances, furniture, mattresses, scrap, tires, carpets, tubes, or any other household items, we extend our junk removal services to haul them away and de-clutter your home. Call us if you have unwanted junk in your garage, yard, store room, roof, or attic to get rid of without any inconvenience or annoyance.
COMMERCIAL CLEANOUT AND JUNK HAULING
If you are renovating or cleaning out your office, shop, or commercial complex, get in touch with us. Our Seattle commercial junk removal service is ready to help you remove office and business waste from your premise. We haul away worn-out desks, computers, partitions, chairs, carpet, tile, shades, wiring, etc., that you don't need anymore.
CONSTRUCTION DEBRIS CLEANOUT AND JUNK HAULING

When you are rebuilding or renovating your property, it is common to see rubbish and waste accumulating in the premise. If you want to get it cleared and dispose it away from your neighborhood, our Seattle rubbish removal is to help you. Our trained staff load and transport concrete, wooden, metal, drywall, roofing, plastic, tiles, and other scraps away to places of safe disposal and make sure that it does not pollute your community environment.
DUMPSTER RENTAL SEATTLE

Action Junk Removal offers cheap dumpster rental in Seattle. We also offer dumpsters of different capacity to assess junk and debris on your property to advise you if a dumpster rental is a cost-effective and convenient option than hiring a trash removal service. If you can do the necessary physical job and arrange for disposal permits, our dumpster rental is an option worth to considering.
STORAGE UNIT CLEANOUT AND JUNK HAULING
Are you paying storage unit rentals to keep discarded and unwanted rubbish? Let our affordable service for junk removal services come to your rescue and eliminate the burden for good. Our fast and easy solutions ensure fast and economical cleaning of storage units abandoned by defaulters.
We also offer moving services for household and commercial needs. If you are relocating to a different community or changing your house in the same neighborhood, let our professionals make it stress-free and suitable for you.
SEATTLE ESTATE CLEANOUT AND JUNK HAULING

Action Junk Removal can save you from draining and emotionally burdening estate cleanout and cleanup. We rightly understand the stress you are undergoing and make every possible effort to make it smooth and unchallenging for you.
SEATTLE FORECLOSURES CLEANOUT AND JUNK HAULING

Action Junk Removal specializes in quick, safe, and eco-friendly foreclosure cleanout. Our Seattle junk hauling service makes sure the property is cleared of everything – furniture, appliances, mattresses, scrap in and around, rugs, carpets, debris, trash – so that you have the perfect house to put for sale.
Action Junk Removal takes pride in its work ethics and environmental responsibility. We are committed to customers to provide them:
We not only make junk removal in Seattle affordable but also try to ensure you get it done effortlessly. To minimize any kind of hassle, we offer fast and efficient services underlined with proactive customer care. You can have all the junk, debris, and rubbish removed from your property in just four steps.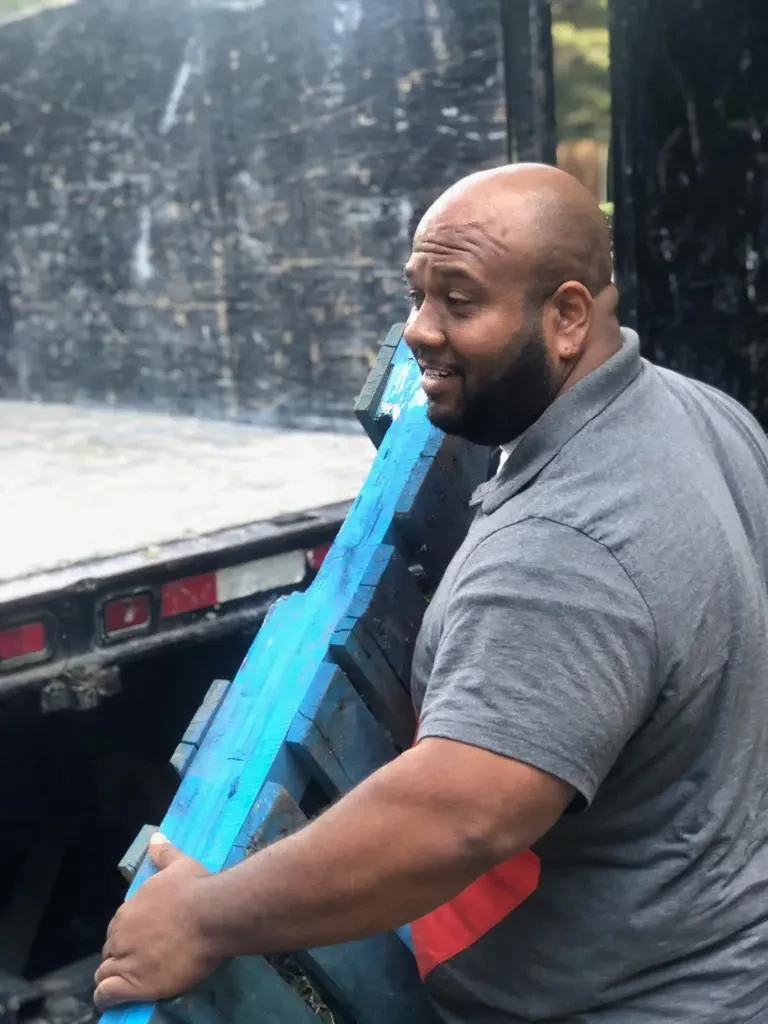 To allow you an easy, efficient, and affordable way of trash removal in Seattle, we offer transparent prices with reliable services. We let customers know about the cost beforehand with a full breakdown of charges so that they can plan their budget in advance. A discount is offered for recyclable stuff. With trained staff, fast pickup, and great customer service, Action Junk Removal ensures utmost convenience for residents seeking to hire our services.
JUNK REMOVAL IN SEATTLE: AFFORDABILITY, DISPOSAL, COMMUNITY
OFFICES CLEANOUT AND JUNK HAULING

We are among the preferred few providers of services for office junk removal in Seattle. Our men ensure scheduled and reliable junk hauling enabling no disturbance and zero inconvenience to your organizational operation.
ELECTRONIC WASTE HAULING

With an environmentally sensitive approach, we fully recognize the dangers of electronic waste. We have expertise in electronic junk removal with a recycled-focus disposal mechanism.
YARD CLEANOUT AND JUNK HAULING

Let our professionals do the yard cleanout for you saving your time and you from physical labor. We clean up your yard and haul away all debris and junk. Our services also include removing brush, log, branch, fence, wood, construction debris, and garbage disposal.
ATTIC JUNK REMOVAL

Attics can be hard to maneuver around in, small, have awkward low slanting ceilings, be dangerous, and make attic rubbish removal harder than it should be. We offer attic junk removal for those homeowners with tough attics. If you have a large, easy to access, and safe attic then we will clean that too.
Step 1

: Contact us and let us know about the type of junk removal service you need and potential items you want to be removed.


Step 2

: A representative visits you and gives an upfront quote after a quick assessment. The price includes the detailed breakup and is affordable.


Step 3

: Our load-up team arrives with the required manpower, equipment, and vehicles. Men are fully trained, background checked, and insured. It hauls away the junk.


Step 4

: You get an email/message/call to confirm that the job is done to your full satisfaction and rate our Seattle junk removal and trash hauling services.
COMMITMENT TO OUR ENVIRONMENT & CUSTOMERS
Affordable junk removal services in Seattle

The easiest possible and the most convenient trash removal and debris hauling

Transparent pricing


Stress-free rubbish removal
We also make a fervent effort to remain sensitive to environmental concerns. From loading to disposal, we strive to protect and preserve your community ambiance and that of Seattle at large by:
Avoiding any damage to the environment

No dumping at landfills

Disposing of rubbish, garbage, and junk in designated and secured places.

Identifying recyclable items and segregating them to send for recycling and donation.

Following differential disposing methods for various types of junk


Eco-sensitive approach in trash removal and hauling
WHY ACTION JUNK REMOVAL SEATTLE

Focus on bettering and keeping the community clean from junk

Comprehensive junk removal services in Seattle

Localized approach enables fast, reliable trash removal

True transparency underlines our services

Detailed, upfront price breakdown to help you know every penny you pay

No hidden charges, efficient de-cluttering

Trained teams with background checked and insured

Advance scheduling and dumpster rental option

Experienced, expertise, professionalism


Eco-friendly disposal of the junk, focus on salvaging, recycling, and donating
CHEAP JUNK REMOVAL SEATTLE

If you want to know how to DIY your appliance removal, disposal, or recycling then see our Guide To Appliance Recycling In Seattle.
Hiring a company to dispose of junk requires someone on-call 7 days a week, ready to drive out to you

Trucks and equipment are expensive to operate and maintain

Licensing

Insurance – lifting and hauling can be a dangerous business

Hard Work – lifting and hauling

Other operating costs and supplies


Average job takes 3 hours to complete – driving to and from your location, junk hauling, the occasional disassembly, and disposing of all the junk responsibly.
Most junk removal is not free. If you want your junk disposed of properly and not thrown into the nearest landfill, it takes hard work and expertise. Even if you don't care if the junk is dumped in a landfill, it still costs money.
Things that go into junk removal in Seattle:
DISPOSE OF & RECYCLE APPLIANCES

Even your local and government trash removal company charges a monthly fee to take away your garbage, recycling, and compost. Homeowners pay this out of pocket, while most renters have it built into the rent.
Call on (206) 800-7198 or have a free appointment with us to know more about our full range of junk removal services in Seattle and how we can make it affordable and easy for you to get rid of junk, debris, and unwanted household or office items. Stay clean, stay green.